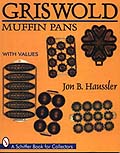 GRISWOLD MUFFIN PANS – HAUSSLER
148 pages
Muffin Pans produced by the Griswold Manufacturing Company are covered in detail in this thorough guide. Over 353 photographs depict the range of muffin pan designs and computer graphics display 226 variations. Prices for every pan and variation are provided in the text. The names, numbers, pattern numbers and comparitive details are also provided.
---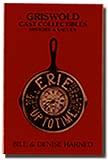 GRISWOLD CAST IRON COLLECTIBLES – HARNED
5 1/2 "X 8 1/8", 191 PAGES
This is the book that started it all. First published in 1985. Contains photographs, recipes, list of patents and illustrations of various logos, and lots of other pertinent information. This book is now out of print so don't wait to acquire this valuable reference
---
DUTCH OVENS Chronicled – by John Ragsdale
5 1/2″ X 8 1/2″ , 104 PAGES
After being unavailable for over two years, this great book has been republished.
Dutch Ovens as we know them today were developed in the early 18th Century. They became the standard baking vessels for early cooks. John Ragsdale, a leading expert on the development, care, and use of Dutch Ovens offers this condensed history of the technological advancements of these vessels. If you are interested in Dutch ovens, this is a "must have"reference.
---

NEW CAST IRON COOKBOOK
8 1/2 " x 8 1/2" inches hard cover 225 pages
This is the hottest cookbook on the market and endorsed by the Pan Man.  Over 200 pages of traditional comfort food enhanced with Griswold and Wagner graphics, and loaded with full page pictures.  It's recipes include: Luncheon and other nibbles, Vegetables and other sides, Main courses – poultry, meat, seafood and decadent deserts.