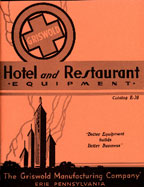 "GRISWOLD HOTEL AND RESTAURANT EQUIP. CATALOG NO. E-39"
11" X 8 1/2" 72 pages
Includes cooking utensils including Transpeed utensils and units; hot plates, waffle irons, sSeri-Scald sterilizers, soup & oyster cokers, griddles, food servers, roll warmers, broilers, sandwich grills, etc. Please call or email for purchase information.
---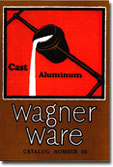 WAGNER WARE CAST ALUMINUM – CATALOG No.55, Circa 1936 NEW
7 1/2" x 10 3/4" 32 pages
This catalog covers Wagner Ware Aluminum products up to and including Magnalite. It also includes such pieces as the Warm Over Pan, 3 in 1 Sauce Pan, the Kook-All, Nursery Sauce Pan, Picnic Grill, Cheese Slicer, etc.
---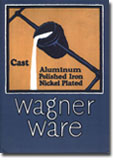 WAGNER WARE ALUMINUM, POLISHED IRON & NICKEL PLATED IRON – Circa  1927
7 1/2" x 10 3/4"   96 pages
Includes skillets griddles, dutch ovens, service pans waffle irons, toys, muffin pans, sugar scoops, patty molds, griddle racks, Dutch oven racks, waffle iron racks – Wagners entire line of that period.
---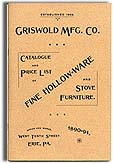 GRISWOLD 1890-91 – CATALOG
5 1/2″mx 8 1/2″, 77 PAGES
This catalog reprint is full of early, unmarked pieces. Illustrations include such rare pieces as coal shovels, fireplace sets, stove pipe shelves, cuspidors, copy press, umbrella stands, gem pans, etc.. Without this reference, you may pass some of the rare, unmarked Griswold treasures.
---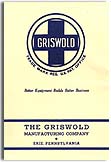 GRISWOLD 1940-42 CATALOG
8 1/2 x 11″, 84 pages
Illustrates cast iron cookwares including hinged skillets, Dutch ovens & sets, Hammered finished pieces, and black porcelained skillets. It also includes aluminum including Aristocraft, Hammercast and polished. Also sections on dampers, gas hot plates, Kwik Bake Ovens, Bolo ovens, and chrome serving dishes.
---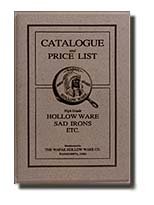 WAPAK – CATALOG REPRINT
c1912, 51/2″ X 7 3/4 ", 55 PAGES
An excellent reference of the early products of the Wapak Hollow Company, including skillets, griddles, kettles, waffle irons, gem pans and sad irons. Also illustrated are hardware items such as lawn furniture, urns, hitching weights, etc.
---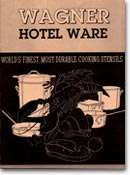 WAGNER HOTEL WARE REPRINT 
c.1939,  8 1/2" x 10 1/2", 21 pages
This reprint lists Wagner's complete Commercial Line of Aluminum Cookware including Kettles up to 100 quart capacity, stock pots, sauce pans, sauté pans, roasting pans, lipped kettles, steam table pots and pudding pans. Ever hear of  "Toppers"? They are a scientifically designed cup cover of cast aluminum to keep  your coffee hot. They are  shown on page 9. This catalog also contains their  complete line of scoops, ladles, skillets, muffin pans, lamb mold etc. of this era.
---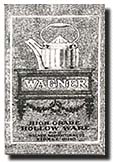 WAGNER – CATALOG No. 10 REPRINT
c1902, 6 1/4″ X 9 1/2″, 72 pages
This early Wagner catalog reprint is complete including the storekeepers notes on various pages. Illustrated is Wagners complete line of iron and aluminum of the period, including skillets, kettles, muffin pans, griddles, waffle irons, broilers, toys, and hardware such as iron downspouts, sash weights, bob sled runners, hitching post, etc.