Wagner Ware aluminum toy handle griddle submitted by Jimmy Gilmore of Lorenzo, Texas.  The toy griddle measures about 4 1/2 inches in diameter. Usually made from iron, this piece is quite rare in aluminum. This can be found in our book "The book of Wagner & Griswold".
Here is an example of a Wagner aluminum toy griddle on Ebay.
If you have a special piece you would like featured in Casting Call, send in a clear photo with a brief description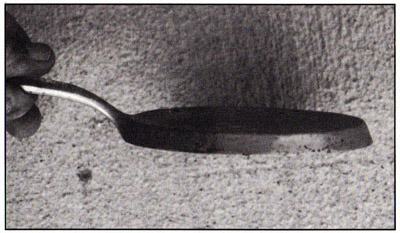 WAGS is a community of cast iron and aluminum cookware collectors. If you like to cook with and/or collect antique/collectible kitchen cookware, then you have found the right place. Want to learn more about WAGS?
Wagner Ware aluminum toy handle griddle Wagner Ware aluminum toy handle griddle submitted by Jimmy Gilmore of Lorenzo, Texas.  The toy griddle measures about 4 1/2
Read More »
Griswold Aluminum Tea Kettle was most likely made by the Pittsburgh Reduction Company. Although the uses of aluminum, at least in its solid metallic form, had
Read More »
Griswold Manufacturing Vintage Warranty Letter response from January 5th 1925 Bailed Griswold griddles were hung directly over coals, on a oven rack, directly over a stove
Read More »